Sunday Mornings
"The Music Group" comprises singers and instrumentalists, and meets about an hour before the 10.30 service to rehearse the music. New members are always welcome to join. At special occasions (eg Christmas, Easter, Village Festival) the choir is augmented by willing volunteers. 

The songs and hymns selected for services for the current month or two are listed in a file which can be downloaded here.
St. Mary's Annual Concert 2018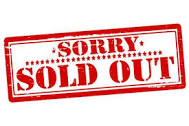 ANNUAL CONCERT
In honour of Alan Baird
Saturday November 17th 2018
All profits to the 21st Century Appeal.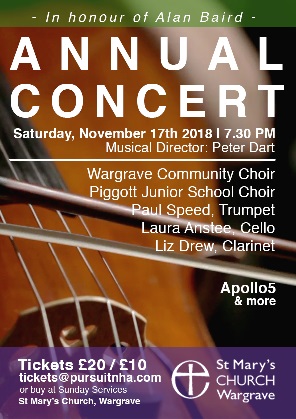 SOLD OUT! Once again Musicians are peparing for the Annual Concert.  For many years the 'star of the show' has been Alan Baird – a multi-talented musician who played clarinet and saxophone and who always had a couple of songs for audience participation. We all miss him enormously and it seemed highly appropriate to dedicate this year's Concert in Alan's memory. Tess will be our guest of honour.
We're planning to have music from our Junior School, Apollo5 (with a special participant !), Paul Speed on the trumpet, Laura Anstee on the 'Cello and Ben Giddens as our accompanist. We hope our resident band will also be performing, and many of our younger people. There will be a wide range of styles – something for everyone, as many of you who have come before know. There will be wine and soft drinks in the interval and it's a great opportunity to bring friends who perhaps have never been to the church before.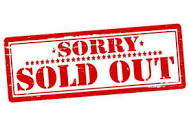 We are aiming to make some money for our 21st Century Appeal, so a limited number of tickets, with the best seats, are now on sale for £20, with a free glass of wine. All other tickets will be £10 as per last year.  Please make a note of the date and broadcast through the community.  
Thank you.  Peter Dart, Music Director  
---
Christmas Carol Service
The Carol Service is an annual opportunity for the regular singers to be joined by others to create a choir of 40 or more to lead the music a week or so before Christmas. The 2018 Service will be on December 16th (rather earlier than usual because of the Calendar!) Rehearsals at 7.15 pm on Fridays 23/11, 30/11, 7/12  and 14/12. Final rehearsal at 12 noon on Sunday 16th December.
---
During the last year...
Sunday July 1st 2018
We were privileged to host a visiting choir from St Andrew Methodist Church, Plano, Texas at the 10.30am  Holy Communion service. Members of the adult and youth choirs who were touring in England took part. The choir boasts a strong choral tradition, with nearly two hundred participants across all ensembles. On this trip to the UK, they were singing with around fifty people from among the Chancel Choir and the Salt and Light Youth Choir, and they were really looking forward to their first visit ever to Wargrave. A recording of the special items they sang is available here 
An introit: "O for a thousand tongues to sing"  by Mark Miller
An Anthem: "Lord make me an instrument of thy peace" by Jody Lindh
During the Communion: "Ubi caritas" by Victor Johnson
and "The Road Home" by Stephen Paulus


                       CONCERTS FROM OUTSIDE
St. Mary's can be used as a venue for concerts from local schools or other music groups in the area. Please be in touch if you wish to consider this option.