Discipleship Explored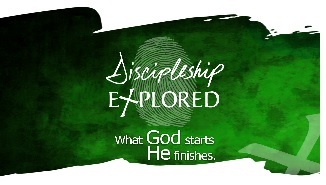 Discipleship Explored is an informal 8-week course focusing on what it means to be a disciple of Jesus today. We look topics including Confidence in Christ, Transformation by Christ, Rejoicing in Christ and Content in Christ. Looking at Paul's letter to the Philippians, guests can explore for themselves the meaning of Paul's words 'for me to live is Christ and to die is gain.'
We hope that Discipleship Explored will be excellent as a next step from Christianity Explored. Each session has a group discussion, picking up on the previous week's material and a short study in Philippians, a short talk or DVD as a theme for that week, and a further group discussion on issues arising.
Contact Camilla Cook for more details for the course which starts in The Vicarage on Monday March 19th at 8.00 pm.

A description of this course can be found here.