Lent, Holy Week and Easter 2018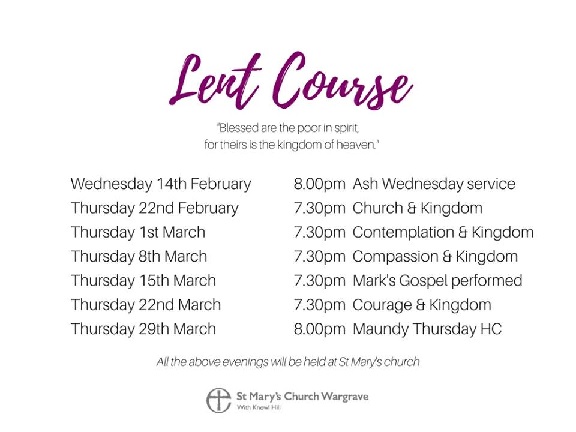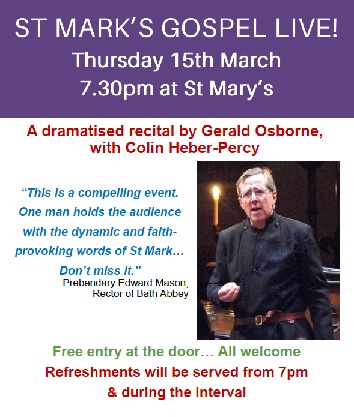 St Mary's Wargrave
Thursday 15th March

Do note the special event this evening in Church when the whole of Mark's Gospel is recited by Gerald Osborne -  priest and Wiltshire farmer


Good Friday 30th March
10.00am . Walk of Witness. This is an all age church family event. An opportunity to hear readings leading up to and including the first Good Friday, meet with the Church family, and join in the opportunity to reflect on the suffering of Jesus which was for us all. We start at Highfield Park at 10.00am walking down Victoria Road, Hamilton Road, Silverdale Road, School Hill, Braybrooke Road, Spring Walk, School Lane, Church Street and Mill Green. We will stop for dramatic readings and hymns Salong the route at Elizabeth Court and The Mount. At St. Mary's Church there will be a 10 minute service followed by refreshments and Hot Cross Buns. All are welcome  - bring your dog if (s)he needs a walk. Bikes,buggies and scooters are all welcome.
2.00pm  An hour at the Cross - devotional service with hymns, readings and commentary conducted  by the Revd John Cook.
Saturday 31st March

All are welcome from 9am on Saturday 31st March to help decorate St Mary's for Easter.The lilies will be provided from our usual donations but any other flower or foliage would be gratefully received to bring Spring and new life into the Church for Easter Sunday.
Easter Day 1st April
8.00am Holy Communion (1662 Book of Common Prayer)
10.30am Holy Communion with special music and activities for young people including an Easter Egg hunt.
St Peter's Knowl Hill
Palm Sunday 25th March 
9.15 am Holy Communion 
Good Friday 30th March
10.30 am, An hour at the Cross - meditation conducted by the Revd John Cook
Easter Day 1st April
9.15am Holy Communion followed by an Easter Egg Hunt 
Easter Lilies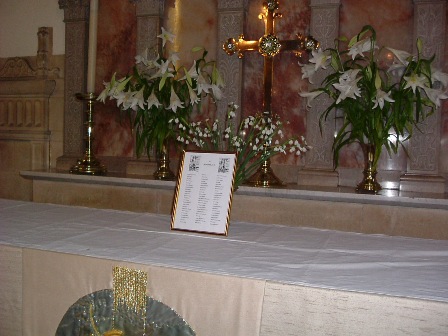 Beautiful Memories
The Easter Lilies purchased to decorate St Mary's are not just a symbol of the new life and hope given to us in Christ's death and resurrection; they can be a tangible and beautiful way of remembering a loved one. There is a tradition in our Church of donations being made in memory of a particular person and the money being used to buy these blooms. A list of those being remembered in this way is placed in the Church over Easter and, seeing the Church filled with these beautiful flowers on Easter Sunday morning is a very satisfying way of marking and sharing the memory of someone who is still loved and missed.
Anyone wishing to make a contribution is asked to place this, together with the name to be inscribed on the List, in an envelope marked Easter Lilies, and hand it to a sidesman or post it to St Mary's Parish Office, Mill Green, Wargrave RG10 8EU. (Cheques should be made payable to Wargrave with Knowl Hill PCC) 
Thank you 
Sheila Williams 
Church Flower Coordinator  
0118 940 3587