Creation Care
PARISH OF WARGRAVE WITH KNOWL HILL ENVIRONMENT INITIATIVES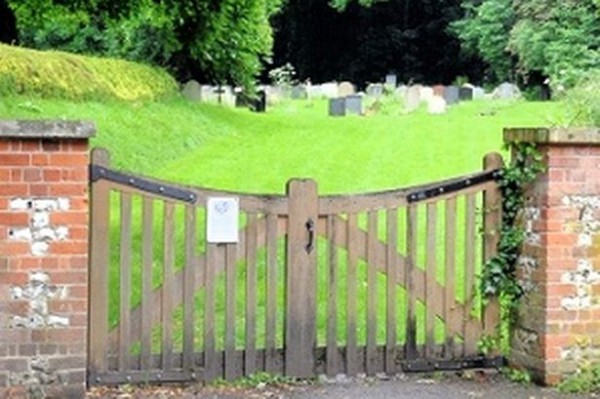 God asks us to be good stewards of His Creation. Psalm 24 says: "The Earth is the Lord's, and everything in it." He entrusts it to our care. His first great commission to mankind was to manage the Earth with care (Genesis 1:28, 2:15). We are called to worship and obey a God of love who made the world perfect and made us in His image.
In 2017 we have:
 - Preached on God's creation
Rev John Cook's series on the Psalms from 22 January to 28 February 2017 includes several sermons on creation care, for example Psalm 8 on 22 January. The sermons linked to our Life Explored course, our Lent Series "Reflections on Creation" in March 2017, and John's Harvest Festival sermon on creation care on 27 September 2015.
 - Run a Lent series on creation care in March, with guest speakers. You can follow the series online below. Contact the webmaster if you cannot see it. You may need to log in.
 - Visited other churches to learn how to make our churchyard and cemetery more wildlife friendly
 - In April 2017, produced a report on our church land, written by local wildlife advisor Mike Turton: wargrave churchyard report Apr2017.pdf
 - Organised local rambles (ongoing)
 - Continued to proclaim the preciousness of God's creation in preaching, teaching and song
 - Reviewed our energy suppliers (ongoing)
 - In October 2017, voted at PCC to register on the eco church scheme; here is an example from the BBC News
In 2018 we plan to:

 - work on eco church in all 3 of our churches
 - collaborate with the Oxford Diocese on creation care support for all parishes
How our journey began: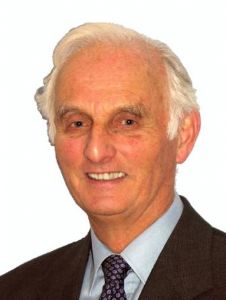 Our journey started on 10 June 2010, when Sir John Houghton (pictured) spoke at our church on 'Climate Change & Global Warming - the Science & the Christian Response'. You may download the slides here (pdf) and listen to the talk here. It triggered several initiatives in our parish: 
(1) A free audit by Solar Co-Op on 19 February 2011 of the energy and building materials we were using at St Mary's, St Peter's and the vicarage. A further audit of St Mary's by Carillion is copyright and available from Mike on request. The forthcoming extension at St Mary's has taken the reports into account. 
(2) Infra-red photographs of church buildings and residential homes highlighted where we could improve insulation and reduce energy bills. We are grateful to Wargrave resident Ian Bradley for taking the pictures on dark, snowy evenings free of charge for the church, and at a minimal charge for private homes, in November 2010.
(3) Solar panels on several homes, aided by the infra-red photographs and government grants. They could not be implemented at St Mary's because of the position of trees, and by-laws which insist that panels may not be visible from the ground on listed buildings in rural parishes. Further information on this topic is available in the English Heritage Guidance on Solar Panels on Churches (pdf) May 2011, and the Church of England Guidance  on Solar Panels (pdf) 2010.
(4) Better recycling in our churches, for example the replacement of non-recyclable polystyrene cups.
(5) A new audio-visual system in St Mary's, making paper less necessary at services and meetings.
(6) In the wider community, the launch of the Wargrave Transition Group. Projects have included a communal orchard on King's Acre, an biennial Apple Day, shared allotments and, with the assistance of Wokingham Borough Council and Mike Turton, nature reserves at the Chalk Pit and Mumbery Hill. One man who had grown up in Wargrave and played in the Chalk Pit as a boy was thrilled to see a deer and orchids there when he returned in 2015. Volunteers are asked to email  or phone her on 0118 940 3381. 
The following reports to the PCC mentioned these early initiatives:   August 2010  March 2011  October 2011

Recommended reading: A Christian Guide to Environment Issues, by Martin & Margot Hodson, two of our Lent speakers in March 2017; and Planetwise, by Dave Bookless, free copies of which were given out by our Vicar Rev John Cook in September 2015.
If you would like to help us in caring for our environment, please contact .

Useful links
In and Around the Home

Many business provide goods that are ethically sourced, fairly traded and good for the planet.
We do not promote individual products, but here are a few links to help you look in good directions:
Fairtrade Foundation  The online shop of the stewards of the Fairtrade mark
Fairtrade Warehouse   Online fairtrade supermarket
Recycle Now                What you can recycle where
True Food Co-Op         Local community co-op for ethically sourced groceries
Conservation Organisations & Initiatives
A Rocha                       Christian nature conservation organisation, stewards of the Eco Church award
Caring for God's Acre  Advice on churchyards and burial grounds
Christian Ecology Link  Portal for UK environmental issues
Green Christian            Network of "ordinary Christians in extraordinary times"
Operation Noah            Informing churches on climate change issues in the UK
.

Reflections on Creation
Lenten Series at St. Mary's Church Wargrave, March 2017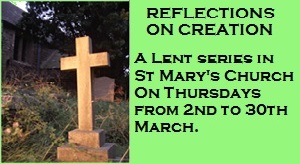 2 March

Bible overview

Steve Turville & Mike Buckland

Steve introduced the series, and then Mike looked at what the Bible says about God's creation and our part in it.

Slides: Series Introduction 

Song: "Creation Calls" written and sung by Brian Doerksen 
 https://www.youtube.com/watch?v=b-kVMcvMWcg    

Slides: Biblical Introduction

Recording of Session:     1703-Week 1 Part 1.mp3    1703-Week 1 Part 2.mp3   


Handouts:


9 March

Food & Shopping

Revd Christine Bainbridge

Christine Is an Associate Priest of St John & St Stephen's in Reading. She is a member of Green Christian and involved in their 'Joy in Enough' project. She considered the challenge of consumerism.

Song:  "Across the Lands" by Stuart Townend with Keith & Kristyn Getty, sung by Kristyn Getty
https://www.youtube.com/watch?v=Qi0sdO7eTYM

Slides: Challenge of Consumerism   

Recording of Session:     1703-Week 2.mp3




Handouts:

16 March

Energy

Dr David & Jane Fulford

David lectured at Reading University for 23 years before setting up Kingdom Bioenergy with his wife Jane. They challenged how we think about energy from a biblical perspective, drawing on their experience with biogas research and the Church Mission Society. They are members of St James Church in Woodley.

Song:  "How Great Thou Art" by Carl Gustav Boberg

https://www.youtube.com/watch?v=3GKhDCsLrUg

Slides: Energy  

Recording of Session:    1703-week 3

Video Clips:   (view on Vimeo with password "creation")

Nepal Biogas

            

CMC - Vellore Recycling Centre   




Handouts:





23 March

Wildlife & How We Treat It

Mike Turton

Mike Is a volunteer wildlife recorder for Wokingham Borough Council, BBOWT, British Dragonfly Society and others, and has provided advice for Wargrave's Mumbery Hill and Chalk Pit nature reserves. He helped us to think through our relationship with wildlife in the light of biblical teaching. He worships at St James Church in Woodley.

Song:  "Morning has Broken", written by Eleanor Farjeon to a traditional Scottish tune and sung by Ora Fallon

https://www.youtube.com/watch?v=h5D3LEjGF8A

Slides: BIblical Stewardship of Wildlife

Recording of Session:    Week 4 after final edits.mp3

Handouts:

30 March

Travel & Transport

Dr Martin & Revd Margot Hodson
Song: "Creation Calls" written and sung by Brian Doerksen 


https://www.youtube.com/watch?v=b-kVMcvMWcg  

Martin Is a plant scientist and environmental biologist at Oxford and Oxford Brookes Universities, and Operations Director for the John Ray Initiative, connecting environment, science & Christianity. He and his wife Revd Margot Hodson, Rector of the Benefice of Wychert Vale in Buckinghamshire, challenged us to think about how we travel. They have published on all topics in this series. See www.hodsons.org for more details.

Slides: WargraveMJH.pptx

Recording of Session:    Wk5 at 16000HZ.mp3  

Handout:

slides